Dr. Dustin James of Dentistry for Kids in Wilsonville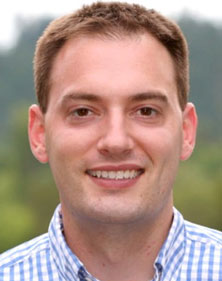 As a dentist, I absolutely love the challenge of making dental experiences as close to fun as possible. It's a rare person, especially among children, who truly enjoys being at the dentist's office, but I use my creativity and genuine care for patients to help build an environment that allows everyone to be comfortable and enjoy their time in our office.
I always tell my patients and their families that I am a real person first and a dentist second. My care and concern for my patients goes beyond their teeth and oral health: I love to build relationships with everyone whom I treat, and I do not take lightly the responsibility that I have to care for my patients in the most compassionate and personable way possible.
My utmost goals are to provide exceptional treatment and care, and turn a visit to my office into something that my patients look forward to.
Education and Continuing Education
For my undergraduate education, I attended Willamette University in Salem, to receive a degree in microbiology. Upon graduation, I went to Oregon Health & Science University for my dental training and Doctorate of Medical Dentistry.
I am a Diplomate of the American Board of Pediatric Dentistry, and I have worked hard to earn this prestigious title. Board-certified status is a title of excellence and is reserved for only the most educated, skilled, and trained dentists in the nation. I have strived to become the best dentist that I can be because I am dedicated to my patients' health and happiness.
I also know that I must stay on the cutting edge of dentistry so my patients receive all the benefits of the latest trends, techniques, and technologies within the dental field. For this reason, I complete over 40 hours a year in courses that advance my professional skill and understanding.
Professional Affiliations
By holding active membership in numerous professional affiliations, I am able to interact and interchange ideas with my fellow dental colleagues. This has always been a crucial component of my commitment to continuing education.
In the Community
At our practice, we are very involved with our community. We support our schools, and we give over $20,000 a year to our community in the form of sponsoring charity events and school auctions.
We also support and mentor students who are thinking about joining the dental field in the future. We love hosting field trips, and I love talking to groups of moms and community colleges about how to improve dental health and overall well-being.
Outside the Office
I was born in San Diego but I have lived all over the country. For the past 20 years, I have called Oregon my home. At home, my favorite thing to do is to play with my two sons Cody and Dusty, and spend time with my family. I am involved in gardening, and working in my ceramic studio in my home. My favorite place in the world is Disneyland. If I wasn't a pediatric dentist, I would be working for Disney.